How will you incorporate STEAM, coding, and robotics into your teaching? Get off to a great start with KinderLab's comprehensive, engaging, and easy-to-follow KIBO curriculum!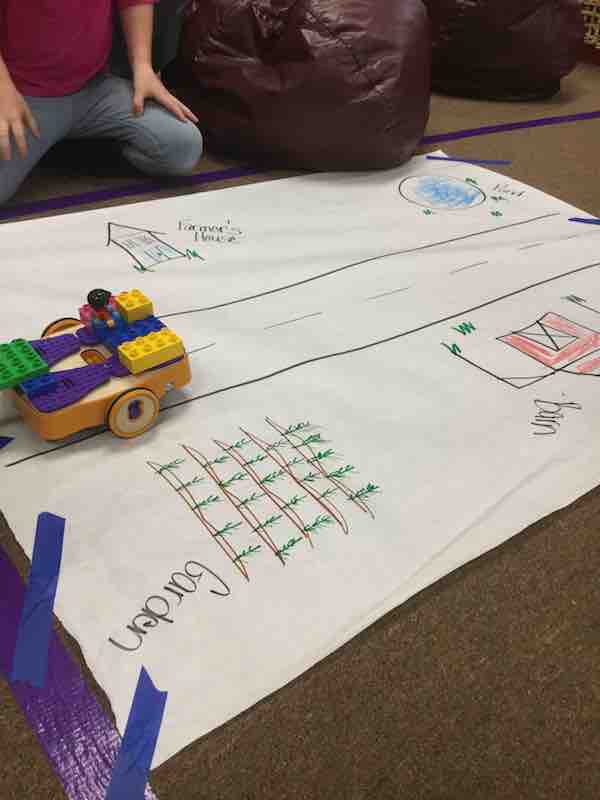 Developmentally Appropriate STEAM
We know how to make STEAM education developmentally appropriate for early childhood and elementary students. Just like KIBO itself, our curriculum is backed by our co-founder Dr. Marina Bers'
20+ years of research into how young children engage with technology
. It's not just about coding: it's social-emotional learning through small-group collaboration, it's developing persistence through the engineering process, and it's connecting to student's passions through cross-curricular lessons.
Growing With KIBO - Our Centerpiece Curriculum
"Growing with KIBO – A Robotics Curriculum for Pre-K to 2nd Grade" is our comprehensive STEM curriculum guide which supports early elementary classrooms and educators with 60 sequenced lesson plans covering robotics, coding, and computational thinking.
Clear, complete lesson plans include some scripting for group discussion, engaging songs, movement games, and readings, and cross-curricular whole-class KIBO activities. You can build your entire robotics and coding program for early grades around Growing with KIBO.
But wait, there's more! Over 100 hours more!
Beyond Growing with KIBO, you'll find over 100 hours of additional lesson plans in supplemental booklets with connections to literacy, art, dance, science, and more! We also supply a wide range of teaching materials to enhance classroom experience with KIBO, from our movement-based "KIBO Says" game cards, to Activity Cards for stations work, to assessment workbooks and engineering journals. We support you every step of the way!
Curriculum When You Need it
You can purchase any of our curriculum products individually, but we also provide the most appropriate curriculum materials for your classroom in our Classroom Packages. These bundles of KIBO Robot Kits, professional development, and curriculum are sized for activity centers, small classrooms, or large classrooms, and they come with the exact curriculum guides, supplements, and workbooks you need to implement your program.
Many states have already adopted computer science standards in K-5, with many more planning to do so in coming years. States and districts that starting STEM education early is critical to ensuring access and success for all students. To ensure that you are meeting your school's or district's goals in computer science and STEM education, we've made sure our curriculum is aligned with key model standards at the national level from CSTA and ISTE as well as actual state standards.
We are actively expanding our library of standards mappings for our curriculum. Below are additional mappings that may be helpful:
The following standards mappings relate to Growing with KIBO, our 60-hour K-2 core curriculum:
The following standards mappings relate to Creating with KIBO, our abbreviated core curriculum:
Learn From Your Fellow Educators